Gate valves are widely used in all types of applications and are suitable for both above and below ground installations. Especially for underground installations, it is vital to choose the right type of valve to avoid high replacement costs.
Gate valves are designed for full opening or full closing. They are installed in pipelines as isolation valves and should not be used as control or regulating valves. Gate valves operate by actuating the stem clockwise closed (CTC) or clockwise open (CTO). When operating the stem, the gate moves up and down on the threaded portion of the stem.
Where are gate valves used?
Gate valves are typically used when minimum pressure loss and free bore are required. When fully open, a typical gate valve has no blockage in the flow path resulting in a very low pressure loss and this design allows the use of pipe cleaning tubes. The gate valve is a multi-turn valve, which means that the operation of the valve is done by means of a threaded stem. The slow operation also prevents the water hammer effect as the valve has to be rotated several times to move from the open to the closed position.
Resilient seated gate valves have a flat valve bottom which allows sand and pebbles to pass freely through the valve. If impurities pass through when the valve is closed, the rubber surface will close around the impurities when the valve is closed. When the valve is closed, the high quality rubber compound will absorb the impurities and when the valve is opened again, the impurities will be washed away. The rubber surface will return to its original shape, thus ensuring a drip-proof seal.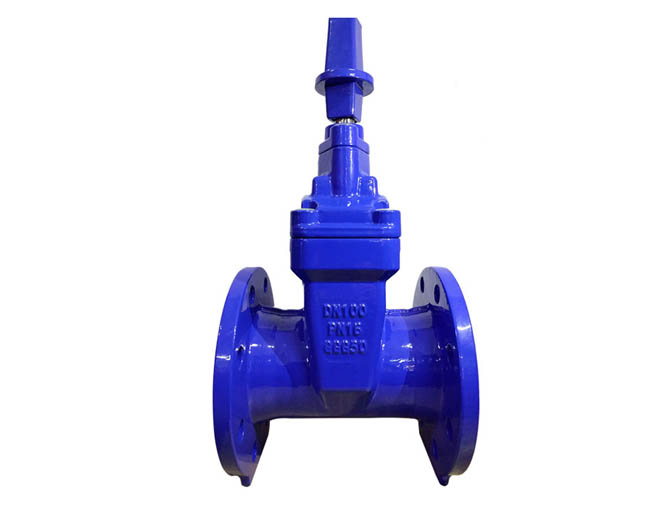 Gate valves with rising stem design and non-rising stem design
The rising stem is fixed to the gate and they rise and fall together when the valve is operated, thus visually indicating the position of the valve and allowing the stem to be lubricated. The nut rotates and moves around the threaded stem.
Non-rising stem resilient seated gate valve is one type of gate valve with flexible wedge as its on-off disc, which moving direction is perpendicular with flow. Gate valve can be only full open or full close. They are widely used in series of industries, especially in water supply projects, public works, water treatment plant, fire fighting, etc.
FEATURES of Non-rising Stem Resilient Seated Gate Valve
Full bore design.Low operating torque.
Self cleaning & low pressure loss.
Rolled stem ensure smooth thread edges and double thread.
Good and clear body marking (Castings are from the same foundry with AVK Valve and Spain TALIS).
Online replaceable under full pressure with valve fully opened; Three o-rings protects upper stem from impurities entering from the water way.
Every valve be 100% tested and qualified before packing and delivery.
As a valve supplier,Prosper flow has a high-quality professional team, and the team's core personnel have more than 10 years of experience in the valve industry.Our valves cover British Standard (BS), German Standard (DIN), American Standard (AWWA), Australian Standard (AS), South African Standard (SABS) and National Standard (GB). Now it has its own valve logo 'ZW'. If you want to get more information about gate valve,welcome to contact us.