Gate valves are used for open/close operations and are designed to be fully open or fully closed. These valves are not used for throttling or flow regulation because of excessive vibration and wear in partially closed gates. Gate valves are available in solid wedge, resilient wedge, collocated wedge, and double plate styles.
Gate valve has the significant advantages of light switch, reliable seal, good elastic memory and service life. Can be widely used in water, sewage, construction, petroleum, chemical, food, medicine, light textile, electric power, ships, metallurgy, energy systems and other body pipeline as a regulating and intercepting device.
1.Light weight
The body is made of high-grade ductile iron, the weight is about 20%~30% lighter than the traditional gate valve, easy to install and maintain.
2. Flat bottom gate seat
The traditional gate valve is often washed in the water that is due to foreign objects such as stones, wood, cement, iron, debris, etc. silt in the groove at the bottom of the valve, easy to close the tight and form a leak, resilient seat gate valve bottom with the same flat bottom design of the water pipe machine, not easy to cause debris siltation, so that the fluid flow unimpeded.
3. Overall rubber cover
The gate adopts high quality rubber for overall internal and external covering, the European first-class rubber vulcanization technology makes the gate after vulcanization can guarantee the precise geometry, and the rubber and ductile ink cast gate is firmly attached, not easy to fall off and good elastic memory.
4. Water precision casting valve body
The valve body is precision cast, the precise geometry of the valve body can ensure the sealing of the valve without any finishing process.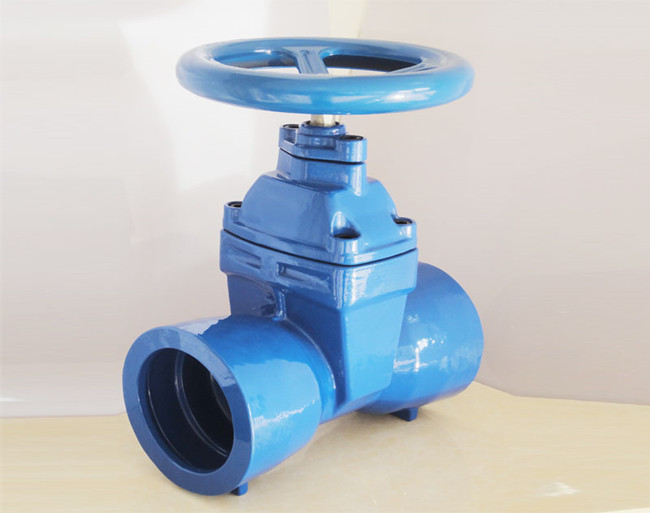 Features of Socket End Resilient Seated Gate Valve for DI Pipe
1.Full bore design, self cleaning & low pressure loss

2.Rolled stem ensure smooth thread edges and double thread
3.Low operating torque. Good and clear body marking (Castings are from the same foundry with AVK Valve and Spain TALIS)
4.Online replaceable under full pressure with valve fully opened; Three o-rings protects upper stem from impurities entering from Three o-rings protects upper stem from impurities entering from the water way.
5. Every valve be 100% tested and qualified before packing and delivery.